15-April-2012 Puno, Peru
This is the highest navigable lake in the world. It is a lake shared by Bolivia and Peru. Titicaca means puma in one of the two main dialects here – Quechua and Aymara. (I also noticed that some of the outdoor clothes used by tourists have a brand called Quechua. The guide said it is not Peruvian but may be a French brand).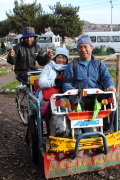 We started the day quite amusingly. We were used to being picked up by busses to our tour site but today we were picked up by 11 pedal powered tricycles. They took us to a mainly downhill ride into the Puno Port where a boat would take us to the islands in Lake Titicaca.
Our first stop were the Uros islands. These are man-made islands and home to a number of Quechuan families. It has become the trademark of Lake Titicaca because these families build boats from straws that grow in the lake.
They build the island by cutting off pieces of land around the lake. These lands naturaly floats in the lake, so they tie them up together and add them to their existing island. They also anchor their island to stop it from drifting. The main chief jokingly said that they do not have passports and it would be a problem if their island drift into Bolivia.
The women even performed a re-enactment of what happens when they barter with other islanders. Then they showed us their fine woven fabrics. These are amazing communities being propped up by tourism now but for several generations have been living quite contently with what nature has to offer.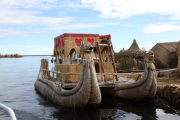 The highlight of our visit is a ride on their straw boats. They let us paddle it and move around wherever we wish to take photos. These boats have seen modern materials already like nylon ropes are used instead of ropes made out of straw. They also now used recycled plastic drink bottles to keep it afloat. The boat owner said it takes them 2 months to build a straw boat. Without modern materials it can last only around six months when water seeps through the material making it heavy and starts to sink. With plastic bottles and nylons used together with the straw – it can last a couple of years.
Our next stop is the island of Taquile. It takes over 2 and a half hour to get there from the Uros Islands. This is perhaps the downside of this tour as there were no activity in the trip for this duration going or coming back. Once in the island, we began a long trek climbing to the top. Unfortunately, three in our group could not make the climb. More contemplated to give up but pressed on, eventually all 17 were at the top. We had a bit of time taking photos from this vantage point. Finally, we climb a little further and had lunch on an open area overlooking the lake. We all decided to have the trout although there were more selections in the menu.
After lunch, Oswaldo, our guide, spoke a bit on the dress ware that the Taquilian's wear. They have different hats signifying authority or whether they are married or not. The quality of their weaving is a measure of their industriousness. Men don't shake hands either, instead they exchange coca leaves. Every men carry a what looks like a man bag to carry coca leaves or their hats are also designed to carry coca leaves. Some men carry more than one pouch.
This is a symbol of popularity because it means he has lots of friends to exchange leaves with. It also means that he has a very good weaver looking after him.
He ended the talk saying that these practices are fast disappearing. The size of the island means that almost everyone is related and incest can have devastating effect on the overall survival of a culture. Thus they are encouraged to marry outside their island – often times these intermarriages do not always embrace these cultures and practices.
With that we started our trek back to the boat and another 2.5 hours on the boat back to Puno. This time we were picked up by a bus and a people mover back to the hotel. Today also is the birthday of one in our group we affectionately called Auntie. A birthday cake was waiting for her at the hotel and we all shared for a late afternoon tea.