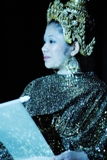 The Holroyd Musical and Dramatic Society presented a production of "The King And I". There were 6 shows in all, consisting of an evening show on a Friday and Saturday and a Matinee on a Saturday on the 14, 15, 21, 22 September 2007.
Tuptim was played by my daughter Celine. This is the third principal role in the play with the King and Anna as the first and second roles, of course.
The story of Tuptim is that of a Princess of Burma who was given as a gift to the King of Siam (Thailand), presumably to forge an alliance between these 2 kingdoms. However, Tuptim is in love with a Burmese man called Lun Tha who was also tasked by the King of Burma to escort Tuptim to Siam.
| | |
| --- | --- |
| | This was the scene when Celine (Tuptim) first appears in the play. In this scene, she is presented to the King by the emissary Lun Tha. The King cursorily examined her and left. |
| | |
| --- | --- |
| In this scene, the Kralohome (Prime Minister of Siam) informs Tuptim that the King is pleased to have her as a gift. | |
| | | |
| --- | --- | --- |
| | Then Tuptim was left on the stage to reflect and sang My Lord And Master. The song reveals her inner thoughts – what does the King really know about her other than her physical appearance. The King might think that her smile or feelings are for him but he'll never know that she loves another man. | |
(BTW the costume used by Celine in these scenes was designed and sewn by her sister Jessica. She also worked backstage on these shows, looking after Celine's make-up, hair and costume changes.)
| | |
| --- | --- |
| | Lun Tha and Tuptim have secret meetings with the help of Anna. In this scene, however, they knew that their meetings will now be over as Anna has decided to leave Siam after a major disagreement with the King concerning a house that the king denies having promised Anna. In this scene, the lovers reflects on their situation wishing they never have to hide their feelings to each other. But their meeting was interrupted as they realised they were being watched. Lun Tha made a quick exit and Tuptim was left alone to sing a reprise of We Kiss In The Shadows. |
| | | |
| --- | --- | --- |
| | We Kiss in the Shadows | |
In the story, Tuptim is already versed with the English language and has written play, an adoptation of an American Novel called Uncle Tom's Cabin. When the King decided to host a ball for the visiting British dignitaries, Mrs. Anna suggested that the play be presented at the Theatre Pavillion. At the night of the ball, Lun Tha was ordered to leave Siam, a move that was meant to severe the relationship with Tuptim. Instead, Lun Tha arranged an escape with Tuptim.
| | | |
| --- | --- | --- |
| | In these scenes, the couple sang I Have Dreamed. This is about their aspiration on how beautiful life is going to be after their escape. | |
| | |
| --- | --- |
| | They were interrupted by Anna who was looking for Tuptim as she was expected at the Theatre Pavillion for her presentation. Before heading off to the theatre, Tuptim bid Anna farewell, expecting that this was going to be their last meeting. |
| | | |
| --- | --- | --- |
| | Your Majesty And Honourable Guests was the opening line of the Small House Of Uncle Thomas with Tuptim as the Narrator. This play within the play is a parallel story of Tuptim. The play is about Eliza, the Slave, fleeing from her master King Simon of Legree to be with her lover George. | |
| | |
| --- | --- |
| After the play, Tuptim made her escape dressed in religious clothes but she was captured by the secret police and was brought to face the wrath of the King. In this scene, the King himself was to deliver the lashing to Tuptim to prove that he is a strong King but Mrs. Anna called him a BARBARIAN. The King was unable to get himself to inflict the lashing and fled the room in embarrassment. | |
| | |
| --- | --- |
| | This was followed by the news that Lun Tha has been captured and was killed by the secret police. In this scene, the messenger informed the Kralanome, who was within hearing distance from Tuptim, that Lun Tha is dead. |
| | |
| --- | --- |
| Tuptim broke down and declared "Then I Shall Join Him" as she was dragged out of the scene, where she gave a blood curtling scream as she was being killed behind the scene. | |
[piclens-lite-link]
Categorised in: Celine's Corner, Family