Journal Entry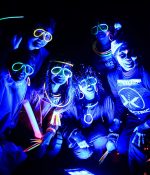 (2)
17 November 2013
We've been very lucky with big events in Sydney so far. From the Colour Run in February to the recent Sydney-to-Gong, the weather has been perfect. Today, that luck ran out. It rained for most of the duration of the Electric Run – a 5 Km run around the Homebush Olympic Centre which started at… Read More ›

Three weeks in a row of participating in a major Sydney event. I decided to sign-up for the Sydney-to-Gong right after finishing the Seven Bridges Walk last week. I promised myself that if I was feeling good after the walk that I would go to this 90km cycling event. The riding bib arrived on the… Read More ›

The first Seven Bridges Walk I did was in 2007. Jeanne and I completed that one but towards the end, our passports were no longer stamped. The official walk had finished but we kept going. Signs and directions were being put down as we were completing our walk but we persevered. The next day, Jeanne… Read More ›

Everything was prepared the night before. Two bikes were disassembled and secured in the boot. Another 2 bikes on the rack. Tyres were pump at recommended pressures, helmets and gloves are all in the car. Last year, there was a hiccup on Celine's brakes, that is why a few weeks ago I had the 3… Read More ›

Another year, another City-to-Surf. We're told that this is the largest organised fun-run in the world with an estimated 85,000 participants. I should know – I'm number 88348 and possibly also in the high 80,000 finisher. As in previous years, Jeanne and I clock this walking the 14 km route in a whopping under 3… Read More ›

One advantage when Jeanne joins the walk is that I also get into the photos. This weekend we went to see the Fitzroy Falls at the Morton National Park. Information about the falls can be read at the Southern Highlands Website. The park is an hour and a half away via the M7 motorway from… Read More ›
Jeanne must be feeling like John 'Hannibal' Smith of the A-Team saying – 'I love it when a plan comes together'. She managed to recruit our friends to launch a surprise party masterfully crafted that left me guessing 'til the very day. Let me tell you how I saw the surprise unfolded on what is… Read More ›
Snorkelling at the Great Barrier Reef in Queensland. These ladies look the part in their sting suits. Before long we will be swimming with the fish and marvelling at the diversity of life at the ocean floor. I was just to breath through my mouth on the snorkel but I find myself uttering – Wow – Wow – Wow to the colours and magnificence of the reef.
This is the highest navigable lake in the world. It is a lake shared by Bolivia and Peru. Titicaca means puma in one of the two main dialects here – Quechua and Aymara. We started the day quite amusingly. We were used to being picked up by busses to our tour site but today we were picked up by 11 pedal powered tricycles. They took us to a mainly downhill ride into the Puno Port where a boat would take us to the islands in Lake Titicaca.
We went nuts taking photos of this grandeur, that we forgot we were in a tour. Our tour guide and the rest of the group have been patiently waiting for us at the entry of this Inca city. The tour commentary is as important as the site itself. Machupicchu was never discovered by the Spaniards when they colonised Peru. The city was abandoned long before the conquistadors came, and vegetation concealed the place. There would have been more places like this, but they were destroyed by the white people when found. They were looking for treasures, at the same time using Christianity as an excuse to destroy a pagan religion.