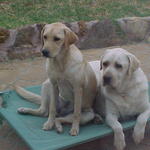 Today 7th of July 2006 – FRIDAY, our golden Labrador, passed away in his sleep. He had served us for almost 8 years. He will be dearly missed. He will be cremated tomorrow and his ashes will be treasured, for he was a member of our family.
Added on 5 Jan 2008
Friday was born Cadiagold Romulus from the Cadiagold labrador breeder in Orange, NSW. It is a coincidence that Romulus is the Latin for the name Rommel. Friday was educated at the Blacktown Kennel Club where he received obedience training. We took him to some of our trips, and at times he stayed in a kennel, and later Betong would baby sit him when we're away.

As time passed by, Celine and Jessica grew up and lost interest with Friday. To give him constant companionship, we saved a labrador-cross we found loitering at the Mamre Christian College. After 2 weeks in the city pound, the council gave us Twenty who remained unclaimed by its owners.
The name Friday was taken from Robinson Crusoe's – Man Friday. The name Twenty was given by me primarily because we do not want pets to have 'human' names and that Twenty came to our house on October 10 or 10+10 = Twenty.
Eventually, we found a new home for Twenty a few months after Friday had passed away.
Tagged as: pet