We are into week 5 of our house painting, a job where we devoted our spare time and weekends. So far we have consumed over 30 Litres of Spanish Cream Paint, 25 Litres of Ceiling Paint, 4 Litres of Red Box Paint and several partially used cans of 4 litre paints of varying colours.
Patience is running low and I'm beginning to feel fatigue – I guess we should now slow down and take a breather.
The Family Room is my favourite place in the house. We spend most of our time here and this is also the centre of our creature comforts.
The Wall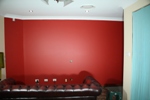 If ever our house is in a time capsule and future civilisation is able dig-out our house, this wall will be of significance. Behind it are the veins of modern day living.
Double Phone Lines – for when it was common to have a dedicated phone line for internet and normal phone
Main Aerial Antenna – which has the power supply of the booster amp. I also distribute the signal from this point to the rest of the antenna outlets around the house. It gives me the option to feed in my own RF signal – a cheap way to supply subscription TV around the house.
Satellite Cables – running 2 signals of Foxtel IQ which provide us video on demand
7.1 Surround System – speaker wires run behind this wall.
Ethernet Cable – that goes to a router that provides wired and wireless LAN to our xBox Media Centre, WII, VOIP, Media Centre PC and laptops.
After painting, Jessica and Celine took advantage of the fact that the wall would not have anything on it until it has fully dried. They used it as a backdrop for their fight scene taken with a continuous shutter on an SLR camera 🙂
[flashvideo filename=media/slow_motion_240x135-show0.flv height=135 width=240 image=media/slowmotion.jpg /]
05 to 09-Apr-2009 – Completed the hallway.

10 to 13-Apr-2009 – Easter break. Not a single coat of paint is slapped. Just proved my theory not to schedule home projects on a long weekend as something always does come up.

14 to18-Apr-2009 – Completed Fourth Bedroom.

19 to 22-Apr-2009 – Completed the main toilet.
Tagged as: House Painting