31-March-2012 3:30 AM AEST

After almost a year since it was planned, we are finally embarking in a journey we've only learnt in the classroom of our Spanish classes in college. There are 20 people in our group and we have arranged a 'hatid' service to the airport. Jeanne and I are the first to be picked up and we were ready by 04:30 am AEST. I did the last minute items to pack – my CPAP. Everything else was packed and ready to go the week before.

There is a reason why Australia is synonymous to 'Far-far Away'. After 2 ½ hours in a plane, we landed in Auckland, New Zealand for a few hours wait, then took a 10 ½ hours flight to Santiago, Chile where we have another 4 hour wait before we could hop on another 2 ½ hour flight to our first destination – Buenos Aires, Argentina.

We were greeted by Carla, the travel representative, at the airport with a tourist bus. There was a new street race being prepared in the city and road blocks are already in place. As a result, our 28km journey from the airport will be stopped short several blocks from the hotel where we dragged our luggage in the back street of Buenos Aires – Welcome to your South American Adventure.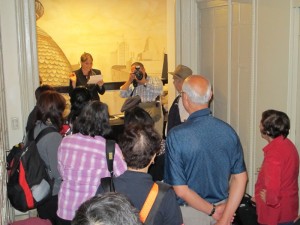 Checking in at Forcadel Apartments, Tucuman St., Buenos Aires – Argentina.
We have been on the road/air for over 30 hours without much of a sleep but by the time we've checked in to our hotel it's only the 31-March 07:00pm ART in Buenos Aires. A dinner for our group has been prepared by the hotel starting at 8:30pm. Some took the chance to freshen up – some used it to have a quick sneak out and check out the surrounding streets for some supplies like bottled water. For me, my first order was to login to a wi-fi and send an iMessage with a photo to our daughters.
At dinner, we joked about Vivien R. having a great and extended birthday. She crossed 4 countries today and arrived still in time to celebrate her birthday. But with all the airline and airport food we had – and the 3 course meal that has just been served – we begged to forego with the birthday cake for another day. After dinner, we were all but buggered – jumped into bed and crashed. But by 4:00am Jeanne's playing music on her iPhone and I'm here writing my first entry on my blog.