Travel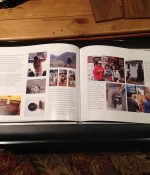 (0)
3 July 2013
I often wonder what would happen to my blogs in the future. I use to have a Multiply site and a Yahoo 360 – these are now gone. We use to upload photos in Webshots, even become paid members – that too is gone. Blogspot and WordPress are still there after all these years and… Read More ›
After 5 days in Bali – Indonesia and 3 days in Kuala Lumpur – Malaysia, Celine and Jessica brought home with them photos and stories of their travel. It still amazes me seeing these 2 fine ladies grab hold of life and enjoy being sisters. This is their third trip together, with no one to rely on – but each other. On this trip Jessica celebrated her birthday in Bali, snorkelling, jet skiing and para-sailing.
Over 18 days of travel, a video camera, an SLR camera and a point-and-shoot camera, we have clicked over 6,000 images. Gone are the days where you have to choose your shot as a roll of film can only get you 36 shots and processing them will cost a small fortune. This is my hap-hazard… Read More ›
18-20 April 2012 – Sydney, Australia Originally, I had no intention of writing a blog about our trip home. Firstly, because from this day – the original group of 20 will now part ways. Two will stay in Bolivia, another two will fly to U.S. and the rest will head back to Sydney. We had… Read More ›
Cintya surprised us by picking us up in the hotel in a very elegant Chola suit. Cameras started clicking at the hotel lobby – everyone wanted to pose with her. She is a very lovely lady and obliged everyone. We soon learned that she came from a long line of Cholas, and that her suit is much more elegant than most Chola that we would see in the city. Traditionally, only the elite wears a Chola and various clothing and jewellery signifies status. A chola will always have a long hair, except these days – Cintya can get away with a hair extension.
We had lunch at Copacabana and changed into a smaller bus which would take us to La Paz. To characterised the size of Lake Titicaca, our whole drive from Peru to Copacabana has always been overlooking the lake. At a certain junction, we all unboarded the bus and paid 2 Bolivianos each and crossed Lake Titicaca on sort of a speed boat. The bus was also ferried across on a special vessel for vehicles.
14-Apr-2012 Puno, Peru The wake-up call is set at 5:00am but at 4:30am I'm up. By 5:30am everyone's having breakfast and by 6:30am we're on our way to a 10 hour bus journey to Puno to visit Lake Titicaca. Our first stop is a colonial church in Andahuaylillas. This is the 16th Cathedral built in… Read More ›
Andy picked us up at the hotel and brought us to Saqsayhuaman. This is an Inka Site where the walls were built in a zig-zag fashion. On an aerial view, this wall and the nearby mountain represents the head of the puma with parts of its body are the streets and plaza of Cusco. We've learned that the street where the Mamasara Hotel, the hotel where we are staying, has a river flowing underneath.
12-April-2012 Cusco, Peru We spent the morning walking around the town of Aguas Calientes. A town so small, the CBD is 5x2Km wide. It is a very unique town as there are no cars around. There is but one way to reach Aguas Calientes and that is via train. It is a tourist town catering… Read More ›
10 April 2012 – Cusco, Peru Today we were to pack all our bags again but will have to pack a separate 3-day provision. The rest of our luggages will be transfered to another hotel and will stay in their storage for 3 days. We will be taking a trip to Sacred Valley and a… Read More ›