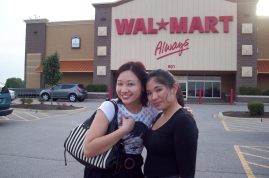 It's been a while since I wrote in this blog. Like the Australian winter – I have gone into hibernating, indulging on my other favourite past time – movies. If it's not for the planned trip of Celine to go to America, our awesome foursome has nothing to get excited about all winter. Yes, Celine and Linda are currently attending a Harry Potter convention in Chicago – a goal they set last year.
Celine saved every dollar she earned to pay for her trip. She set a financial goal and achieved it. I'm very proud of her as she is enjoying every bit of her young life with good friends to share the time and excitement.
They arrived in Illinois early. They stayed in Tito Emil's and also at Tita Vangie's home initially before joining the rest of the delegates in a downtown Chicago hotel. I'm sure Celine will bring home gigabytes of photos but for now – here's a shot shared by Tita Vangie as the girls visit an American icon – the Wal Mart store.
Tagged as: celine
Categorised in: Feature Story, Journal Entry