Feature Story
The latest post in this category will take the primary post in the mimbo theme page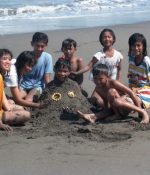 (0)
15 October 2017
It was a time when taking photographs meant buying a film and taking 24 or 36 shots. You try to be careful with each shot and draw from your previous experiences. You would not see the results until after the roll is finished, developed and printed. One mistake on the camera setting and may mean… Read More ›

On August 2013, we decided that we will spend Christmas 2013 on a ship. We have never been on a cruise before and Christmas time seems to be the ideal time to start. We had mixed experiences. Celine was not bothered by seasickness at all. Jeanne had one bad day. I had one bad morning… Read More ›
Jeanne visited Spain, Portugal, Morocco and stayed a few days in Dubai between the 13th of September and the 5th of October 2013. This is the first trip taken by Jeanne on her own (with friends of course). Equally, it is also a test for Celine, Jessica and myself (mostly myself) not to have the constant care of Jeanne. She said she will write about her trip in due time.
After 5 days in Bali – Indonesia and 3 days in Kuala Lumpur – Malaysia, Celine and Jessica brought home with them photos and stories of their travel. It still amazes me seeing these 2 fine ladies grab hold of life and enjoy being sisters. This is their third trip together, with no one to rely on – but each other. On this trip Jessica celebrated her birthday in Bali, snorkelling, jet skiing and para-sailing.
Snorkelling at the Great Barrier Reef in Queensland. These ladies look the part in their sting suits. Before long we will be swimming with the fish and marvelling at the diversity of life at the ocean floor. I was just to breath through my mouth on the snorkel but I find myself uttering – Wow – Wow – Wow to the colours and magnificence of the reef.

These series of blogs were written whilst Jeanne and I were touring South America with 18 other friends. Although all of these were written a day or two after the events – I haven't been publishing them and had "on purpose" 😉 left posting it in my blog after we've returned home to Australia. This is not an attempt to document the travel itinerary but rather to capture the stories on how I remember this trip.
Inspired by loads of cooking shows in the tube, and common interest with friends, a dinner club is becoming a regular event in our calendar. It informally started last year when we were rehearsing for Joy's wedding. After practice, most would dash off but Ryan and Angie would stay a while for tea or dinner…. Read More ›
It took almost a year to prepare Jeanne's 50th Birthday and our Silver Wedding Anniversary – but it was all worth it. Our venue was the new Weber Library Hall in Blacktown. There were approximately 130 guests from the Harana Concert Band, Nielsen Cycling Group, Ex-TIers, Thales, Ex-British Aerospace friends. Jeanne, Celine and army of… Read More ›
Celine promised me to write about their experience in Japan. But she will probably never get a round tuit. Nevertheless, I just want to put up a few of their photos to mark the occasion. I'm really proud of these girls. At a very young age, they can truly travel and be independent. I often… Read More ›
Sydney, Australia … my first long foray out of the country … 30 days to be exact. Here are some of the things I learned about Australia, in general, about my sister, her husband and their 2 grown-up daughters and things we shared that I fondly remember.