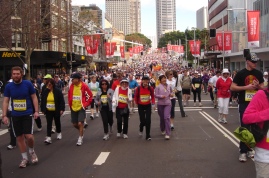 Early this year – Jeanne registered us to the City-To-Surf, a 14km marathon from Hyde Park in Sydney to Bondi Beach. We are not runners and not that athletic, so I though she's crazy to get us into it. I'm a self-confessed couch potato, with a burst of guilt physical activity thrown in every now and then.
Three days before the event, I was watching the weather, hoping for rain so that Jeanne would chicken out and I could sleep in this Sunday – but 'alas, it's a chilly morning but fair nevertheless. Friends were also calling in the night before to organize meeting places and time – they are keen and also their first time. Great – 5 first timers whose preparation for a marathon is a walk to lunch.
Our strategy is easy – we will walk the 14km. We soon find out that it's not a bad idea at all. A huge portion of the 70,000 participants had no intention to run. Others are even more inventive – like dancing all the way with a boom box on the back pack for music. Others are dressed in gowns and men on tux and did it in style. One family came as the Flinstones, others as fairies, Flash Gordon, Wonder Woman etc – it's very festive. I wondered why I avoided it all these years.
This year's City-To-Surf is the first micro-chipped event ever held in Sydney. We wore a microchip tucked into our sneakers and this is meant to record our time for the event. On Tuesday – 12 August, the results will be published in the Sun Herald newspaper – the official sponsor of the event. This means, we could not lie on how well/bad we did in the exercise 🙂
For more photos of the event – click here.
[flashvideo filename=media/CityToSurf2008-show0.flv height=240 width=320 image=media/CityToSurf2008.jpg /]
Video downloaded by Jeanne from the official City-To-Surf Merchandise website
[flashvideo filename=media/CityToSurf2008a-show0.flv height=240 width=320 image=media/CityToSurf2008a.jpg /]
Silly Runners with the Stars – Vivien and Lourdes
Tagged as: city-to-surf
Categorised in: Feature Story, Sydney Living