Media
Blogs containing videos, slide shows, YouTube etc.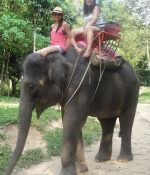 (0)
21 February 2012
After a crazy start to their holiday, Jessica and Celine is back from a week long R&R in Samui, Thailand.
Selected photos between 11-Dec to 13-Dec 2009 of the Saint Louis Campo Filipino (formerly Holy Family Academy) Class 79 High School Reunion. Photos were taken by Annie Echevarria and Rommel/Jeanne Pascual.
Selected photos between 24-Nov to 24-Dec 2009 of our trip to the Philippines, excluding photos taken on our High School Reunion.
Two years in a row! The Sydney Royal Easter Show is a yearly event that dates back to 1823. It is an event we don't always get a chance to see, and to witness this two-years in a row is quite a treat. Last year, we played host to a visiting guest from overseas. (See… Read More ›
Year 6 graduation party performance featuring Bryan Louis Pascual and classmates inspired by Jabbawockeez – 20 March 2009. Baguio City, Philippines.
Dancing elves created and downloaded by Jeanne. Saved here for posterity.
A wedding anniversary greeting – very lovingly done.
We never really had a proper wedding album when we got married in 1986. We had other priorities back then. Now, it had become a favourite pass time for Jeanne to photoshop out wedding photos.
I love the world of Word Press, it's the perfect opportunity to explore CSS, XML, PHP, AJAX and all the web acronyms you can throw at it. The Mimbo Theme that I've been using is almost unrecognizable, I'm thinking of renaming it as my own already but I have problems yanking code of others and… Read More ›
As seen in Jeanne's Multiply Blogsite. Unbashfully copied to mine 🙂